2838
2021, monotype and oil on board, 37 x 30 cm.

Part of the Venice Time Case itinerant exhibitions, curated by Luca Massimo Barbero.


2838, details.




Quinta
2021, oil on canvas, 195 x 140 cm.

Quinta
rappresenta una scena di backstage, un momento catturato durante lo svolgersi di un servizio fotografico nella mia camera da letto.

Le due ragazze, le mie coinquiline di allora, indossano vestiti realizzati appositamente per loro, immortalate in atteggiamenti spontanei di cura reciproca, mentre altre presenze nascoste fanno capolino tra gli oggetti di scena.

L'ampia dimensione del quadro, il taglio fotografico e il punto di vista posto all'altezza della figura inginocchiata invitano l'osservatore ad entrare a far parte dell'intimità della scena, mentre la spessa tenda blu fa a sua volta da quinta ad un ambiente nascosto, mistico e precluso.


After Dark
2021, oil on canvas, 80 x 110 cm.

In After dark la notte sta finendo, la luce azzurrina dell'alba sfuma leggermente i contorni, una trama geometrica appare talvolta come un'ombra colorata intrappolata dentro le palpebre.


Nictofobia: gattini
2018, oil on canvas, diptych 40 x 30 cm each.

La paura del buio e l'insonnia che provavo da bambina facevano sì che vedessi delle forme prendere vita, sugli scaffali e sulle mensole, negli angoli disordinati della mia cameretta. Giurerei che una notte, aprendo gli occhi, una mano sia apparsa all'improvviso, a pochi centimetri dal mio volto, con il dito indice puntato verso di me, il cui braccio partiva dalla libreria posizionata frontalmente al mio letto. Non sempre ero spaventata da queste apparizioni, talvolta stavo a fissarle a lungo, fino a quando, piano piano, il loro alone mi rimaneva impresso nella cornea e il buio le riassorbiva.
When I was a child, I used to see shapes come to life, on the shelves and in the messy corners of my bedroom, because of the fear of the dark and the insomnia I felt. I would swear that once at night, opening my eyes, I saw a hand suddenly appeared, a few centimeters from my face, with the index finger pointing at me, whose arm started from the bookcase positioned in front of my bed.
Doni
2019, oil on canvas, 195 x 140 cm.

Il linguaggio pittorico all'interno della mia ricerca è spesso utilizzato quale mezzo iconologico e diventa, talvolta, esso stesso il protagonista, un filtro ombroso e stratificato che modifica la realtà, donandogli un'ulteriore chiave di lettura.

In Doni e In cammino, l'oggetto, rappresentato arbitrariamente fuori scala, attraverso le pennellate e le stratificazioni di colore più o meno dense subisce un camuffamento che ne ribalta il significato. Così come nella ritrattistica pittorica rinascimentale, le statue da presepe dipinte in grandi dimensioni acquistano una "presenza" verso cui ci si può confrontare; l'aspetto rigido, disequilibrato, e il corpo sproporzionato proprio delle statue di legno e terracotta, vengono qui camuffati dalle grandi dimensioni del dipinto e il volto viene ritratto all'altezza dello sguardo. Nasce così l'esigenza di cercare un contatto visivo, un confronto umano con la figura che la pittura stessa in quanto mezzo rappresentativo permette di realizzare.


The pictorial language within my research is often used as an iconological medium and sometimes becomes the protagonist itself, a shady and layered filter that modifies reality, giving it a further interpretation.

The object, deribelately represented out of scale, undergoes a camouflage that changes its meaning, through brushstrokes and more or less dense layers of color. As in Renaissance pictorial portraiture, the large-scale painted nativity statues acquire a "presence" towards which one can compare.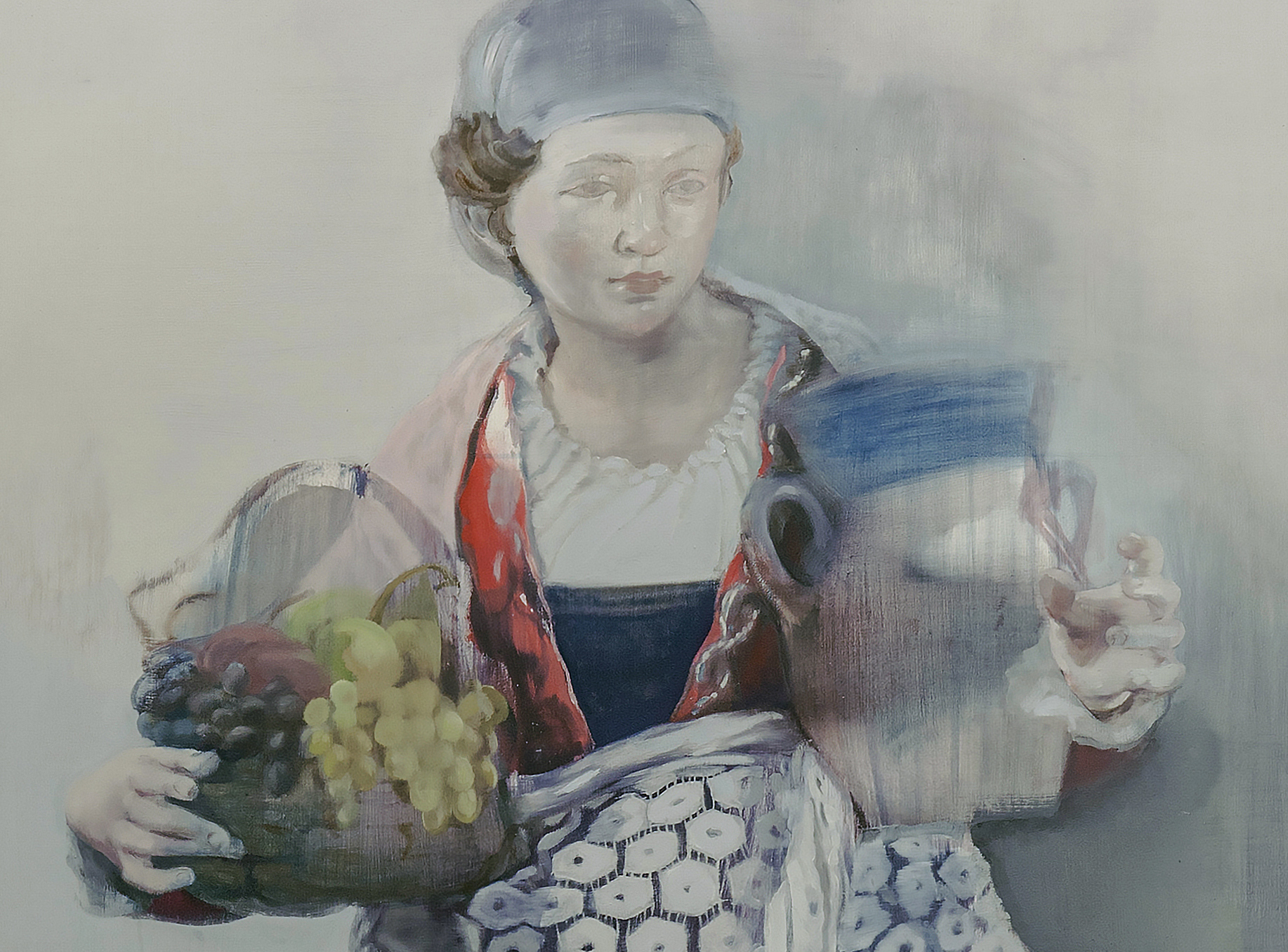 In cammino
2019, oil on canvas, 95 x 140 cm.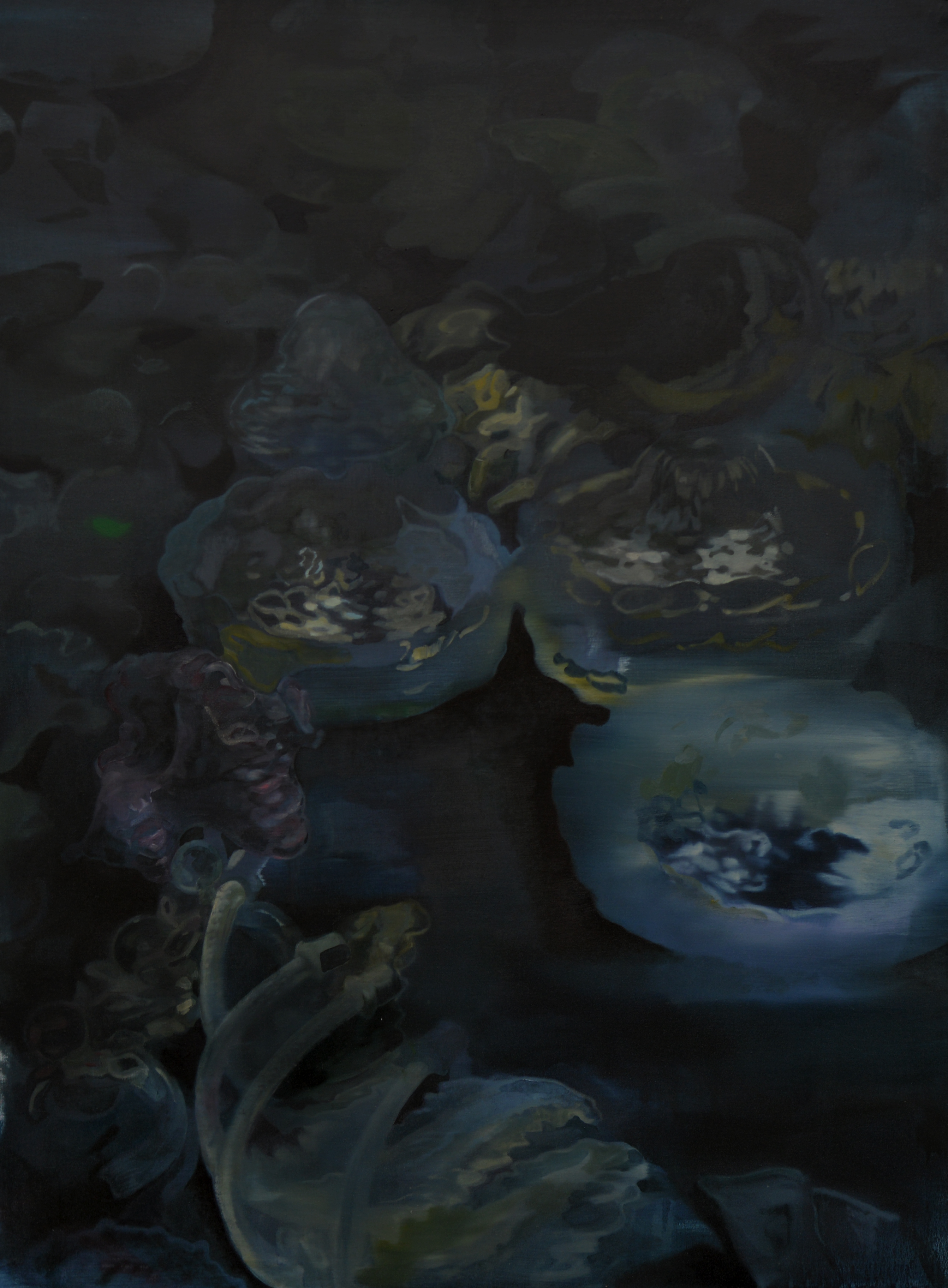 Nite Glass
2018, oil on canvas, 102 x 78 cm.
Nite Glass è il ritaglio della superficie espositiva di una bancarella. Diversi componenti di lampadari in vetro di Murano dalle forme vagamente floreali si ammassano in vari livelli di trasparenza come fossero su una tavola imbandita; la coltre notturna e subacquea sfasa le forme e fa emergere la luce, creando una rete serpentina di sensazioni liquide. Oggetti derivati da una tradizione antica e di valore rimangono sospesi in una dimensione fuori dal tempo, sviliti dall'ammassarsi l'uno sull'altro in un contesto di mercificazione, riacquistano bellezza nel loro valore intrinseco.


Nite Glass is a cutout of the display surface of a market stall. Different components of Murano glass chandeliers with vaguely floral shapes pile up in various levels of transparency as if they were laid out on table, the night and underwater blanket displaces the shapes and brings out the light, creating a serpentine network of liquid sensations. Objects derived from an ancient and valuable tradition remain suspended in a timeless dimension, having been debased massed together, one on top of the other in a marketised context, they regain beauty in their intrinsic value.
---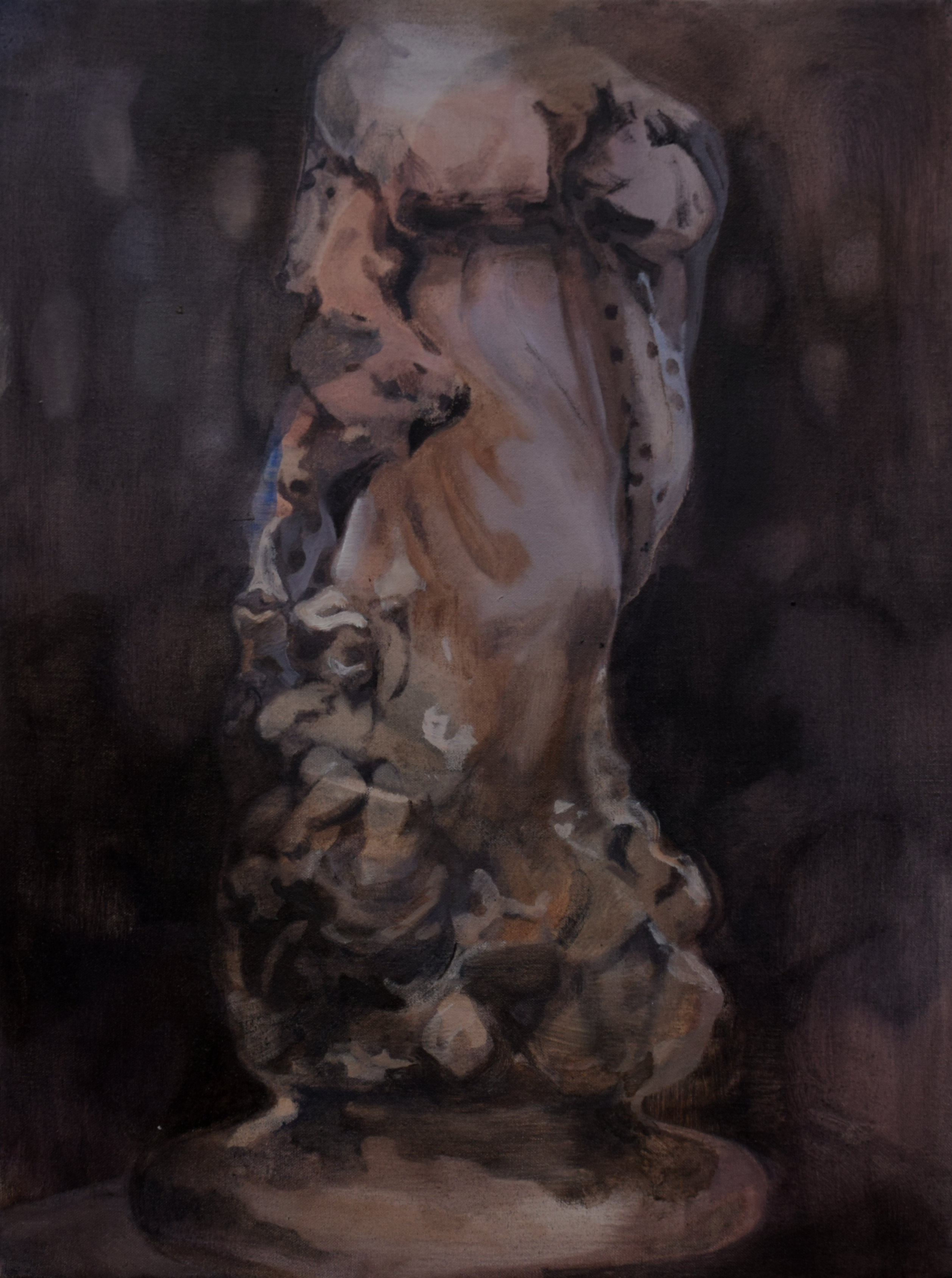 ---
Oil on paper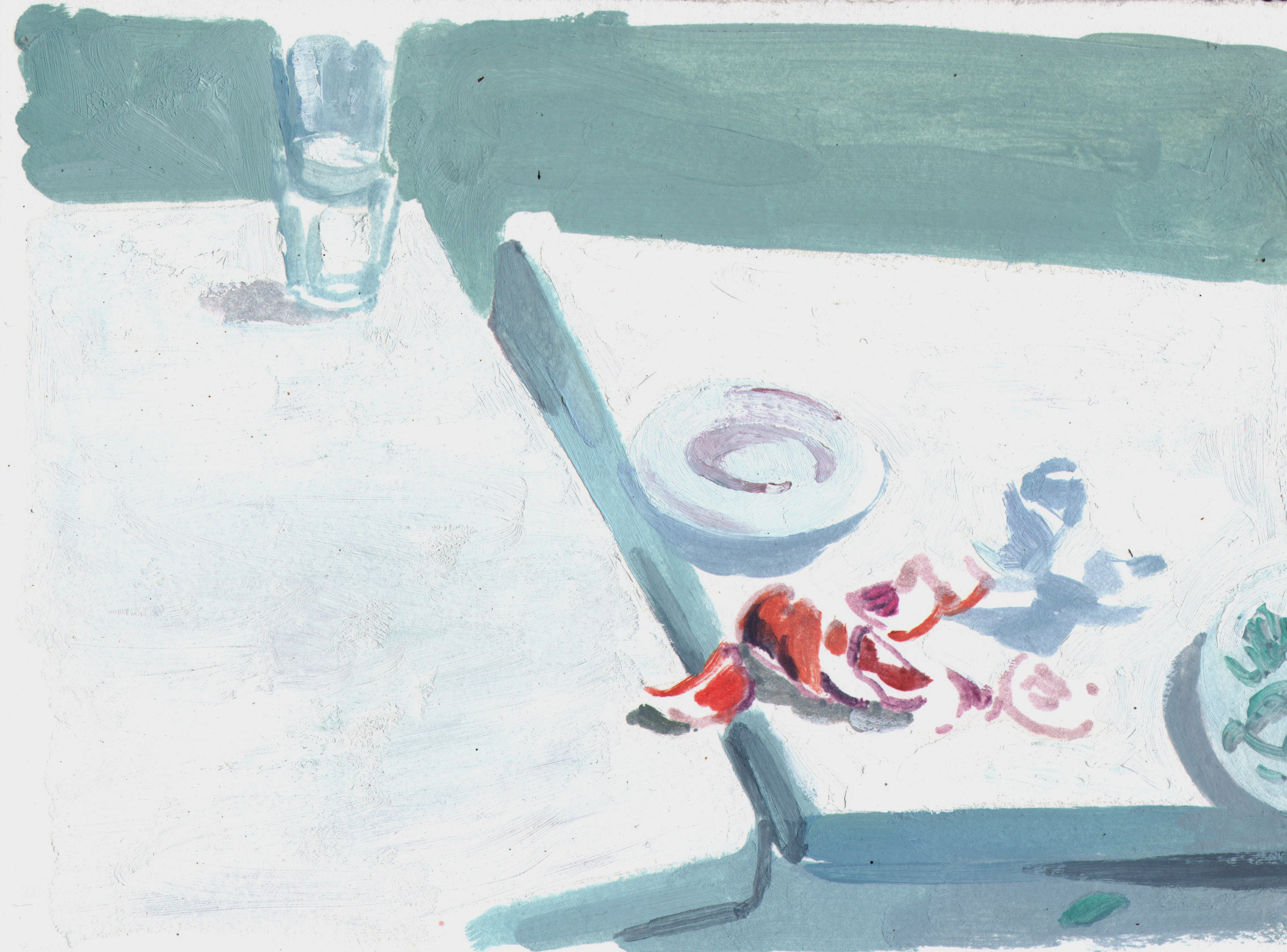 © 2020 Giorgia Agnese Cereda